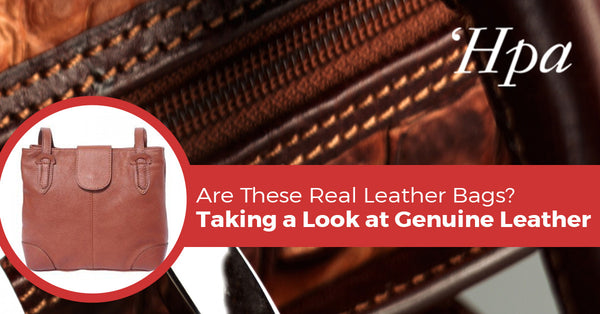 Are These Real Leather Bags? Taking a Look at Genuine Leather
Fake leather, faux leather, leatherette - whatever you want to call it - is everywhere these days. You'll find synthetic leatherette upholstery in the interior of a new car, faux leather in low to mid-range furniture like sofas and chairs, and koskin, a type of bi cast leather intended to substitute for real leather in footwear, clothing, fabrics, and much more products. While real, genuine leather may not always be the most viable option for every consumer product, one area where the leather material should always be genuine is stylish handbags.
The real leather bags that we carry at Hera's Handbags all use Italian leather, giving our bags a sense of style, elegance, and quality. When you sport one of these stylish bags going out and about, you'll feel a sense of confidence knowing that you're carrying a quality product to show off for all of your friends and family to see. We're going to take a look at some of the things to take into consideration when determining whether a "leather" product is real or not. Continue reading below to learn a thing or two about the world of leather that you probably didn't know before!
Clearing Up a Few Misconceptions First
We're not sure how some of these seemingly widespread misunderstandings became so popular, but before we begin discussing what's real and what's not when it comes to leather, let's make sure that we know the truth about the durability, quality, and versatility of leather.  
Misconception: Real Leather Can't Be Cleaned Once It's Dirty
As it turns out, cleaning genuine leather is actually pretty easy! What a lot of people don't realize is that real leather already comes with its own scratches, nicks, and blotches of color here and there that give it its own unique character. If your leather handbag happens to get dirty from exposure to food, oils, dirt and so forth, simply gently wipe off the unwanted residue. Any remaining blemishes will probably fade into the already vintage texture, but we promise that it won't ruin your bag. We recommend that you don't use excessive force aggressively rubbing out the blemish on your leather bag, however, because this can result in permanent discoloration.
Misconception: Water Will Damage Real Leather
It's unclear as to where this misconception originated from. When you imagine how cows roll around in the mud and water, it's almost silly to think that water will permanently damage real leather. Traditionally, humans have actually used animal hides to make a shelter from natural elements like rain, wind, dirt, and so forth. The next time you're out for a power stroll with your fancy new leather handbag and it starts to rain a bit, don't worry! Water will not damage real leather.
Misconception: Real Leather Is Less Durable Than Synthetic Materials
Like the above two misconceptions, this is also not true. Traditionally, throughout human history, cowhide and other types of animal hides were actually used as armor for war and battle. Given the complexity and density of leather fibers, real leather can endure a lot more than most people think. In fact, real leather is the most durable commonly used fabric that we know of.
Leather Basics
There are advantages to both real leather and faux leather, as faux leather can be a much more affordable alternative while genuine leather represents luxury, comfort, and prestige. We think that our buyers should know which factors are the most important when it comes to guiding their decision - after all, real leather and even leather-like material provides an endless source of possibilities in terms of design, color and finish, so there's a lot to choose from!
Most leather used in products comes from cows, goats, sheep, and pigs. Though there are many types of leather out there on the market, most leather material can be classified into the following categories, ranging from the highest quality to lesser quality:
Full Grain leather

Top Grain leather

Genuine leather

Bonded leather
Additional leather classifications include aniline, semi-aniline and pigmented leather. Aniline is an oily liquid that maintains the leather's suppleness.
Synthetic Leather Qualities
Synthetic leather is factory-produced on the basis of fabric or plastic that looks like or imitates real leather. Synthetic leather comes in different shapes and colors, and some synthetic leather materials are better than others, being characterized by low prices. You'll find synthetic leather under different names like eco leather, vegan leather, leatherette, faux leather, and so forth. Generally, synthetic leather is porous, meaning that it will prevent air from passing, and it will produce sweating and a general feeling of discomfort in leather-based clothing items.
Knock Off Leather Bags

We don't approve of the practice ourselves, but many retailers and sellers will sell knockoff designer handbags and advertise them as the real thing. Shady? Perhaps, but the practice still happens frequently. Though the quality of synthetic leather has improved greatly in the past few decades, there is still quite a clear difference between the real deal and synthetic leather materials. Naturally, if you're in the market for a nice, high-quality real leather bag, then you'll want to make sure that what you're getting is made of legitimate, authentic leather material.
Don't Settle For Less!
Hera's Handbags is your stop for real, quality Italian leather handbags. Our next post will cover how to identify real leather, what makes real leather stand out over synthetic leather materials, and how to spot the differences between the two. Remember, the material and construction quality of our leather is everything, and we don't cut corners! Browse our selection of great handbags by clicking here and stay tuned for our follow-up post.