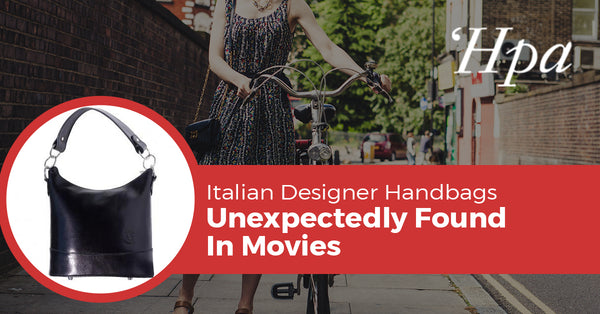 Italian Designer Handbags Unexpectedly Found In Movies
Italian Designer Handbags Unexpectedly Found In Movies
Are you ever watching a movie, enjoying the story or the cinematography, when you notice a particular product or item that catches your eye? It's usually something along the lines of, "Hey, I have one of those too! Neat!" Well, Italian designer handbags like you'd find here at Hera's Handbags are not exempt from their fame up on the big screen.
In today's blog post, your friendly stylish handbag experts at Hera's Handbags are going to touch on some of these fashionable purses that made their way into major motion pictures. If you're in the market for a gorgeous real Italian leather bag, don't forget to shop our collection today, and if you're not, give it a browse anyway!
The Royal Tenenbaums
(2001)
Margot Tenenbaum, played by Gwyneth Paltrow, portrayed a sort of unique geek-chic style that served as an instant inspiration to fashion houses like Gucci, Jonathan Saunders, Erdem, and more. Margot Tenenbaum's 'bookishness' appeal is seen in the movie with a luxurious full fur coat while carrying a highly exclusive Hermès Birkin bag.

The Proposal
(2009)
Sandra Bullock stars in another one of her typical romcom roles in this flick. In The Proposal, she plays Margaret Tate (not to be confused with Margot Tenenbaum, of course) who is a domineering boss that needs to marry very quickly in order to avoid deportation. You can spot a Prada Cervo Antik Shopper bag in the scene where she decides to propose to her assistant, but we doubt that most people would be able to catch that on the spot.
American Hustle
(2013)
Gucci plays a major role in depicting the 70s glam culture in American Hustle. Amy Adams plays Sydney Prosser, and in a scene where she is strutting down the streets in a plunging neckline dress, you can find that she's sporting a Gucci Bamboo Lady Lock bag. To say that it matches her outfit in the film and completes her dazzlingly striking look would probably be an understatement.
The Break-Up
(2006)
Ah, Jennifer Aniston - if anyone is going to totally nail the cool yet casual appeal at just about anytime, it's definitely going to be her. In The Break-Up, directed by Peyton Reed, there is a scene where she's toting a Chanel Cerf, simply yet elegantly paired with a collared shirt and jeans ensemble. We challenge you to find anyone who can 'do it' like Jennifer Aniston does - we don't exactly know what 'it' is, but man, can she work it.
Batman vs. Superman
(2016)
This mega-superhero ultra-flick didn't turn out as great as many hoped it would, but hey, for us purse lovers, there is something to praise. Diana Prince, better known as Wonder Woman, is seen carrying a fabulous Valextra Medium Isis tote. While others might be distracted by the epic mix-up of two major superheroes, this bag, complete with its structured shape, was enough to grab our attention.
Find An Italian Designer Handbag Of Your Own With Us!
We can't guarantee that you make your way to the big screen just because you're sporting one of our designer stylish handbags, but you will be fashionable - that much we can guarantee. So why not browse our collection and shop Hera's Handbags today?