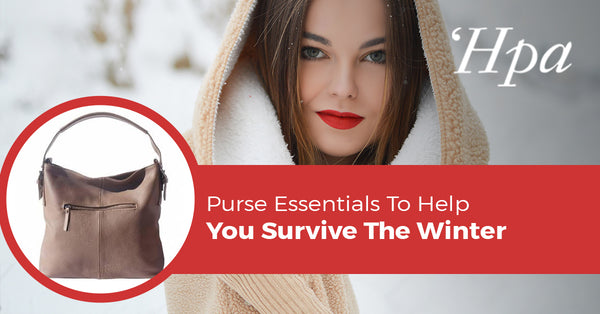 Purse Essentials To Help You Survive The Winter
If your purse could fit the kitchen sink, then you would probably bring it with you. Whether you own a ladies business bag, a real leather handbag or a stylish clutch bag, bags of all different shapes and sizes certainly have their utility when it comes to carrying important items around. The warmer times of the year are great, but essential purse items seem to be the most useful during the dry and often brittle winter season. Because our Vera Pelle handbags look so good when you're toting them around, even the cold times of the year call for looking stylish. But what should you be carrying around with you?
Fashion Italian Designer Handbags Made Just For You
That's an important question, and a question that our Italian leather handbag specialists will be addressing in today's blog post. Hera's Handbags is proud to offer a range of affordable fashion Italian designer handbags from cross body purses to ladies shoulder bags and more. Are you looking to step up your winter fashion game? Shop our collection of business bags for ladies today!
Now, to help your efforts in becoming equal parts winter fashionista and blizzard preparedness expert, let's check out some of the essential purse items that you should carry during the colder seasons.
A Skin Moisturizer
No one wants brittle hair or cracking skin, right? From boarding an overseas flight home for the holidays to walking the dogs for even just a few blocks, the harsh dryness of the winter can leave your skin begging for some moisturizer. Switching between the chill of the outdoors and the warm indoor heat is even worse for keeping your skin moisturized, and so this calls for a non-oily lotion or some other topical moisturizer on hand. Not only will this help keep your skin hydrated, but it will also keep it from direct contact with the air. Indeed, acting as a barrier to the external environment, the more you moisturize throughout the day, the healthier your skin will feel and look!
Lip Balm For Life
Your hair and skin aren't the only parts of your body that dry out during the winter. Your lips are especially prone to the excessively dry atmosphere, so balm those suckers up! Really, some even prioritize lip balm so high on the list of daily essential items that sticks of Chapstick never leave their front pockets. Just make sure to wait a little while to apply your actual lipstick after moisturizing your lips!
A Pair Of Gloves
It's cold, it's winter, it's probably snowy out, and driving around just isn't pleasant when your steering wheel is a block of ice. A lush pair of winter gloves can be a total lifesaver during the winter months when your hands are frequently washed (who wants to get sick?) and robbed of their natural oils. Investing in a nice, insulating pair of gloves or mittens will protect your hands from damage and make those brutal winter temps feel like a summer breeze.
A Reusable Water Bottle
There's an old saying that goes something along the lines of "hydrate or die," and it's true. More often than not, inadequate hydration is the cause of many of our day-to-day problems, easily reconcilable with some gulps of delicious aqua. Do yourself a favor this winter and carry around a reusable water bottle so that you can easily hydrate on-the-go. Just make sure to thoroughly wash out the bottle on a frequent basis, as those pesky germs are at their peak activity during this time of year.
Tissues
Better for more than just your issues, soft tissues are necessary to gently wipe your runny nose during the dry winter season. Tissues are also great to aid you in any makeup touch-ups as well as any wind-induced teary eyes that you may get. As a practical bonus, tissue packages are small and incredibly lightweight. If your stylish leather handbag was literally stuffed full of tissue packages, it would probably feel empty when you went to pick it up.
The Ultimate Designer Handbags For You
No one else makes a handmade leather shoulder bag like we do here at Hera's Handbags. Our Vera Pelle handbags are made with genuine Italian leather to give you the best stylish handbag experience. Shop our ladies business bags and fashion Italian designer handbags today!